Ladies and Gentlemen, welcome to the Burwash Lodge, Yukon Territory, Canada. It's Friday, 18th of August, we're about to have fresh trout out of the Lake in front of us, the beer is cold, so's the weather, the mosquitoes are almost as large as the table I am writing on, and generally speaking, everything is good.
Leaving Luxembourg was a strenuous affair since the process of saying Good Bye started on Saturday 4th of August, the actual departure being on Thursday 10th. After the formal Goodbye party which lasted from Saturday till Sunday evening, there were several more festivities, our family and friends obviously having decided that they wouldn't make it easy on us. This is a good place to say once more to everyone, Thank You for everything, the support, the friendship and the Pinot noir.
The final days were very busy assembling final paperwork and equipment and studying with manic mechanic Charel from LUXMASCHINN to learn the difference between the rear end and the front end of the bike. (Thanks, Charel, so far we only had to check the fluids, change the brake pads and tighten the chain). RTL Luxembourg did a TV report on the trip that finally made us the celebrities we clearly deserve to be - thanks to Christine.
We left Luxembourg on a direct cargo flight to Fairbanks with the bikes on the same plane. A final thanks goes to CARGOLUX for making our lives so much easier by providing that service. After sleeping through most of the flight, we arrived in Fairbanks an hour earlier than we had left Luxembourg, got the bikes out of customs in under an hour, and we were on our way.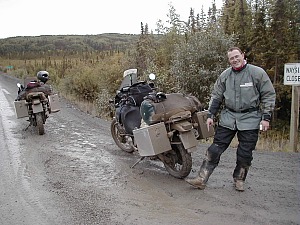 Due to jetlag we were up amazingly early (5 am!) on Friday, so we headed straight for the Arctic Circle, about 320 kilometers north from Fairbanks. Huhu, it was cold and rainy and the dirt road leading to the Arctic Circle felt very slippery for pavement-perverted riders like us. We got used to it pretty quick though, and ended our first day of riding with a total distance of 420 kilometers, 350 of which were dirt roads. After that, we stayed a couple of days in Fairbanks, then headed south to Mt. McKinley National Park which we visited shortly before taking another dirt road east. That road, the Denali Highway, was absolutely spectacular, especially because the weather had finally become decent. We have a lot of pictures to prove this claim. It was cold during the night, - 6C, quite a refreshing temperature for camping.
The following days found us in Glennallen, then Tok where we were extremely well-received, an experience that has been consistent throughout this first week. The Alaskans have been extremely pleasant and helpful, with a very special sense of humour. We stopped for a snack at a typical roadside café/gas station/ motel or "rat camp" as the locals say and chatted with the owner who told us that her first husband had gone down with a plane while they were living in the bush. But since she had another one (a plane, that is) all she had to do was place an ad " Widow with airplane looking for man with pilot licence". It worked. Tough people and very much at ease with their environment.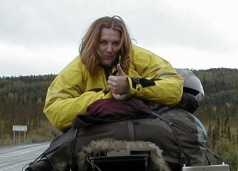 Rat camps, by the way, are essentially construction site containers set on gravel lots along the highway. The containers are divided into bedrooms with bathrooms down the hall, priced an easy 100 USD a night.
Another roadside café owner sang cowboy songs and yodled for us as we ate his chili.
From Tok, we drove into the Yukon Territory, riding the Alaska Highway which we will travel down for the next few days. Depending on the weather, we might take dirt roads (the Cassiar Highway) part of the way, since we have developed a bit of a taste for slipping and sliding around on gravel roads. So far we have done almost 2000 kilometers, most of them in rather rainy weather and there's no improvement in sight. Well, at least the rain keeps the mosquitoes down and the riding nice and slippery. Quite a few more kilometers still to go, so stay tuned.
Cheers, Ellen and Manou.