Buenas Dias, compadres. Although we're in Canada, we thought it was about time we rehearsed some Spanish in anticipation of more southern regions soon to come. Dos cervezas y dos Mezcales reposados por favor. It's all coming back. Con Gusano or sin Gusano, that's the question.
We are about to leave British Columbia, after 12 days and 3000 kilometres in Canada, bringing us to a proud total of almost 5000 kilometres so far. We spent a couple of days in Whitehorse, capital of the Yukon Territory (that's where Dagobert Duck made his fortune during the Klondike Gold Rush of 1898….), where we met Ashley Rhodes, an Englishman who had just come from Ushuaia aboard his GS 1100.
After leaving Whitehorse, we met in rapid succession a french couple aboard an old CB650, on the road for 2 months, and a couple in a safari truck, Pam and Klaus, who have been travelling for over six years, with 9 more years still to go. We spent the evening and the following morning together, leaving them with the hope of meeting again in order to hear some more of their quite extraordinary travel stories.
Following recommendations from various people, we took the Cassiar Highway (as opposed to the Alaska Highway) on our way south. The scenery was spectacular, the gravel was slippery, the weather was awful and the people encountered along the way were great. Even the bears were friendly. We saw three of them, two on the Cassiar and a third one close to Hyder, an Alaskan enclave in British Columbia, known for its strong liquor and for its wildlife. The two bears we saw along the Cassiar did little more than sit on the side of the street and disappear as we got closer (although not too close).
The third one was somewhat more exciting : We were riding toward a place called Fish Creek in order to see the annual salmon migration taking place. As we were driving along a very potholed gravel road in pouring rain, something that appeared like a reasonably large grizzly bear made its appearance on the street.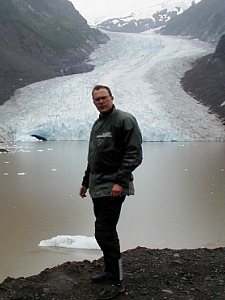 I respectfully stopped the bike and started digging for my camera when ze Teddybär suddenly started taking a few steps towards me (Ellen was guarding the rear at an even more respectful distance). As the weather was simply too nasty for heroism, I turned the bike halfway around in case the bear didn't know that his species usually doesn't attack mine, and by the time this little misunderstanding was cleared out, he had taken his leave, leaving us with a photo of the bushes he had disappeared into. Pity.
The riding on the following days, as we crossed the southern part of British Columbia, was pleasant and uneventful. The Canadians do not seem to have the same idea of political correctness than Americans do. One billboard along the Highway tried to lure visitors to a town called Barkerville by inviting them to "Come sleep with us". A few miles down the road, a Motel billboard stated literally " I wants you in my beds". Friendly place, British Columbia. We're now on Vancouver Island, heading towards Seattle where we will spent the rest of the week. Since Ellen lived in Seattle for 12 years, the forecast for the days to come is rather stormy. Wish me luck.
We'll be back.
M & E