Central America. The diversity is incredible, the people friendly, the bugs gigantic, the landscapes lush and dramatic, the border crossings a pain there where the sun never shines, and the food delicious. Let's start with the food : Paches, pupusas, anafres, pinches, gallo pinto, empanadas..., (sounds almost as good as Bouneschlupp, doesn't it), the food was as good as it was varied. Same thing goes for the beer. The small roadside side stands, comedors and sodas are definitely the way to go in these parts.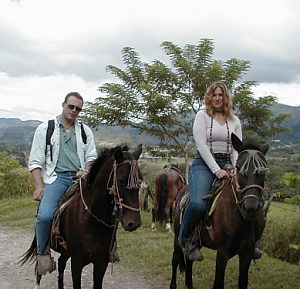 As for the border crossings, they are a nightmare: An average of about two hours at each border, with tears being shed every time at the number of trees that had to be cut down to supply these legions of manic scribblers and stamp-happy controllers the satisfaction of carrying out their holy mission. Redundancy rules: Sometimes, they would make us wait around while they were typing out an extremely intricate form on a typewriter with one finger, and then make us wait some more in order to enter this freshly harvested information into their proudly displayed computer. Ahem, disculpe senor, but wouldn't it be easier to…oh never mind. Details about the individual borders should be available soon under www.horizonsunlimited.com.
We drove into Guatemala on October 18th, heading for Chichicastenango in order to see the market and at last do some righteous shopping. It is difficult to imagine anything more colorful than a Guatemalan market, the country being set apart from other Central American countries by its large Mayan population. Most of them still stick to their ancient costumes, technologies and traditions, which has attracted mobs of tourists but unfortunately has made them a target for discrimination in their own land. That's maybe also the reason why Guatemala was the country where the poverty seemed most striking, although it was quite noticeable in most of Central America.
The country in general was an experience, the people being mostly friendly and communicative, with the unfortunately quite frequent exception of those that had been exposed to tourists too much. The interesting encounters usually happened in roadside comedors, whereas the towns (mostly Panajachel and Antigua) felt distant at best and like a tourist trap at worst. In Antigua, we met Frank, a friend from Luxembourg who had been around for a couple of months in order to study Spanish, therefore being perfectly qualified to show us around town.
After Antigua, we spend a couple of days in Guatemala City to have the bikes serviced. It seems that we continue to be lucky with bike services. FA Honda in Guatemala City, Tel 331 4148, ask for Carlos Cardona (service) or Julio Flores (parts), is the place to go.
Thus being roadworthy again, we set out for El Salvador, where we spent a couple of days, before heading east for the ancient Maya town of Copan, Honduras. Since we mostly avoided the Interamericana in both those countries, we happened upon quite a few places that didn't seem to see many tourists. The bikes of course created mucho curiosity, making for several pleasant encounters, as well as provoking hollering, waving, honking, and headlight flashing from the locals.
We arrived at the Honduras border by way of a single lane mountain dirt road that at times was not unlike riding along a dry river bed with the occasional semi encounter just to keep things interesting…but the view was gorgeous. The border town (El Poy) itself was as sleepy as it gets. The border gate was a cattle guard and the police used the competition handlebars on their mountainbikes to read the paper while they made their rounds. It still took three hours for the customs formalities..
The highlights in Honduras were the town of Copan Ruinas (next to the archeology site of the same name), a pleasant little village set in beautiful surroundings, and, more generally the Honduran roads, well maintained, nice and curvy, not too much traffic, definitely an unexpected treat. We didn't notice too many posted speed limits either.
Unfortunately, the road conditions changed quite drastically as soon as we got into Nicaragua, with potholes the size of a Sunday hangover and a ridiculous numbers of smelly trucks and buses with semi-suicidal drivers. Welcome back to the Interamericana.
The first stop in Nicaragua was in the town of Esteli, where the local factions of both the PLC and the Sandinistas were celebrating the coming elections, greeting us with a lot of noise, firecrackers and general good mood. Later on however, the mood seemed to turn slightly belligerent due to all the free booze, making us decide to retire early to be in good shape for the next destination, Granada.
In Granada, we spent a couple of days boating around on the incredibly scenic Lago de Nicaragua, the world's tenth largest lake if memory serves me well. The features that made it so attractive were the hundreds of tiny islands, (many of them inhabited, usually by one family) and the looming volcanoes in the middle of the lake. Granada itself is a beautiful colonial town with high-ceilinged buildings and lots of rocking chairs with friendly people rocking away the weekend in their courtyards or on the town's sidewalks, contemplating life.
We had been looking forward for a while to the next destination, Costa Rica, having heard that it's both beautiful and one of the friendliest places in the world. All those admittedly pretty high expectations were met, if you haven't been there yet, consider going. It's truly spectacular. All throughout Central America, people had been very pleasant, but not as open to communication and truly welcoming as the Ticos. We visited Liberia, Tilaran, Monteverde Cloud Forest, Arenal Volcano, and San Jose and were well received everywhere.
The weather was good, with the occasional evening downpours, which affected us very little, as we tended to be safely tucked away with a cerveza by that time. We were told in several places throughout Central America that we had arrived right after the end of the rains (with the exception of Panama…), exactly as we had planned.
The ride from Costa Rica to Panama City was uneventful, the road decent, but unfortunately infested with speed traps. We were flagged down shortly after entering the country, marking only the third speed-related police encounter so far (the other two were in Canada and Costa Rica). Once again, we managed to talk them out of sanctioning us. One of the cops, after gracefully pardoning an infraction worth $130, said " Es un regalo de Panama", it's a present from Panama. Muchas Gracias, Senor Wachtelmeister. We did slow down after that.
We're now in Panama City, having successfully completed the necessary formalities in order to fly the bikes and ourselves to Quito, Ecuador. The general political climate in Colombia having been unstable for quite a while, we have reluctantly decided to skip the country. The story of Ricardo Rocco Paz, a biker travelling solo through Colombia who was recently kidnapped by the guerrillas, somewhat confirmed our decision. Luckily, they released him without harm after a day or so, not even robbing him. For the full story, see his web site (http://www.andesmoto-tours.com) or check the November edition of http://www.horizonsunlimited.com Motorcycle Travellers' e-zine, something well worth doing anyway.
Total distance traveled in Central America amounts to 3.200 km in just under four weeks, bringing the total to 18.200 km in three months. The bikes are holding up well, a slight electrical problem in Costa Rica was fixed in a couple of hours with the help of a village dirt biking enthusiast. We keep dutifully checking the different bits and pieces regularly (as instructed by Herr Professor Charel K.), so hopefully there won't be any trouble, mechanical or otherwise, during the next leg, South America.
Hasta very soon
Manou & Ellen