Chile, Argentina and Antarctica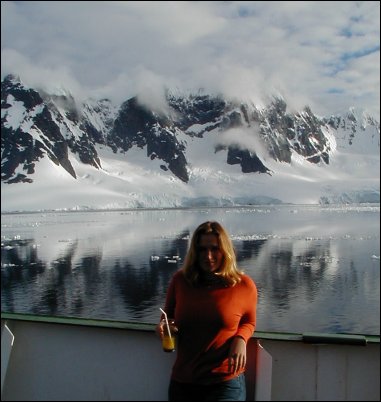 Tuesday January 2nd, 2001. It´s the end of the world, at least here in Ushuaia, Argentina, the southernmost town in the world. After arriving here on December 20th, we boarded a boat to the ends of the world, fell over the rim and were swallowed by a penguin standing on top of a turtle (or was it the other way around …?), never to be heard of again. For more information on our daring escape, read on to the end of this fascinating narrative…
We rode into Chile from Bolivia on the 1st of December. The scenery changed quite drastically after the Altiplano, as we headed due south again along the northern Chilean coast, consisting mostly of desert, interrupted only by the odd town or village. Such is the desolation that the Chileans thought it necessary to plant several sculptures in the middle of nowhere, perhaps just to keep drivers awake and interest alive. The road, in very good condition, is for the most part a straight ribbon along the coast. We would usually either picnic or stop somewhere in a little seafood place, where we would feast on excellent congrio (eel) or some other delicacy. In Tocopilla, at a small beachside restaurant, we became the main attraction for a rather large flock of kids that showered us with questions and professed great admiration for the respective colours of our eyes. As soon as we were done with lunch, they cheerfully raided the table for all they could find, much to the dismay of the restaurant owner.
Shortly before Santiago, Ellen´s clutch gave out. We had been aware of the problem for a while, hoping to make it to Santiago where spare parts were already waiting for us. Since that hadn´t worked out by a meager 100 km, we loaded the bike on a truck with the help of a couple of locals and headed into town. Besides having both bikes serviced, we also met up with Jeanette Sabus, who was preparing to leave for a one year ride around South and Central America (http://www.geocities.com/pandoras_tour). The next destination was Puerto Montt where we had decided to take the ferry for Puerto Natales. This made us miss the Carretera Austral, but considering the rather miserable weather and the fact that we wanted to spend a few days exploring the Torres del Paine National Park, it seemed like the best way to go. The ferry ride was uneventful and pleasant. We were quite lucky, since our cramped four man cabin became a lot more spacious due to the fact that our roommates decided to switch to more comfortable accommodations, leaving us by ourselves on an otherwise fully occupied boat. We´re still wondering if the fact that our riding jackets hadn´t been washed since Alaska had something to do with their decision to switch rooms….?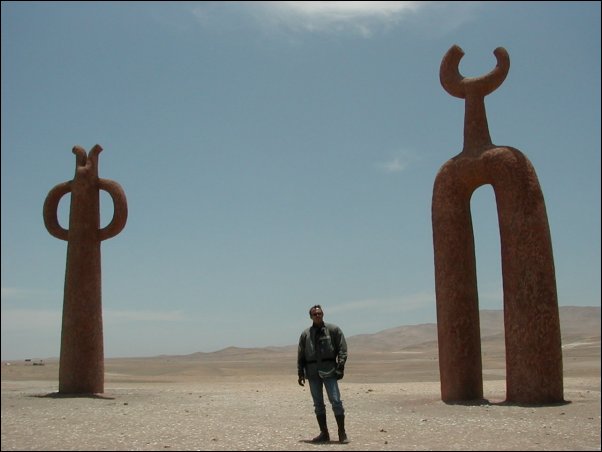 In Puerto Natales, the weather continued to be so miserable as to make a visit to Torres del Paine pointless. We hung out in town, being pleasantly lazy, waiting for the weather to improve. One morning, when it seemed like clearing up, we got ready to head out only to find out that both bikes wouldn´t start. We eventually got them running again, but we had lost another day and the weather was worsening, so we decided to head straight for Ushuaia, where we arrived on December 20th. We had a day to arrange parking for the bikes with the help of Pepe, the amazingly friendly owner of Hostal Alakaluf (Tel 54-02901-436705, http://www.alakalufhosteria.com.ar), wash our clothes (including the jackets !!) and get some supplies for the trip to Antarctica.
That done, it was time to meet up with my parents as well as my sister, Anne, and her boyfriend, Richie, who had flown in from Australia, much to the surprise of my father, who didn´t know they were coming and who also had no idea that we were going to Antarctica. As surprises go, these worked out well, all in honor of his 65th birthday.Once together, we boarded our ship, the Lyubov Orlova, and headed for the Drake Passage, where some traditionally rough seas awaited our coming, effectively incapacitating about 60% of the passengers aboard. The six of us did reasonably well though, spending the two days in the Passage reading, attending lectures, and celebrating as much as the rolling of the ship would allow us. By the end of the second day, we arrived in calmer seas, and the following day, we finally set foot on Antarctica, at Neko Harbor on the Antarctic Peninsula. Penguins, seals, whales, birds, and ice, ice in different forms and shapes, glaciers, icebergs, ice everywhere, an always repeating yet always different sight. Absolutely spectacular. We landed in six different spots altogether during the time effectively spent in Antarctica, including places like Deception Island, a flooded volcano, and Port Lockroy, a former British research station. The voyage back through the Drake Passage was slightly less turbulent and agreeably punctuated by more lectures, good company and decent food.
We were back in Ushuaia on the 29th of December, Ellen and I planning to stay for a few days, whereas my parents, Anne and Richie continued to Buenos Aires. For several years, there has been a gathering of long distance bikers in Ushuaia for X-Mas and New Years´s, and we were looking forward to meeting some other bikers.Immediately upon arriving, we met Moe, a 67 year old gentleman from Texas who had ridden down from Quito, and together with him, we went hunting for more bikers. We eventually found them at a campground in Lapataia, where the New Year´s party was to be held. Unfortunately, our planning on the evening of the party didn´t quite work out, as we ended up having a wonderful but rather lengthy dinner in town and only arrived at the campground when the party was going towards its end.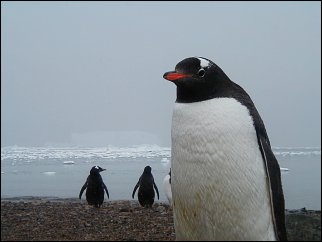 However, there was a group of Argentines still going strong, so we celebrated with them eating, drinking, and laughing until the early hours, having a lot of fun until the moment one of them stole my video camera and ran off. Other people on the campground, including the bikers, were missing some equipment as well, so the first day of the New Millennium started with a search of the premises and a talk with the police. Not exactly what we had in mind. Although some of the missing objects were found hidden away in the surrounding bushes, the video camera was not among them which also meant the loss of the footage from Antarctica, along with quite a bit of disillusion about those people we had been celebrating with. I don´t consider myself especially naïve, but the situation was a lot more unpleasant than having it stolen anonymously off the bike or from the hotel room. This was however the only ugly thing about Ushuaia, the town being very nice and the Argentines being every bit as friendly as I remembered them from my first trip. Even our robbers were essentially very pleasant people !!!! Still, may the scoundrels be affected with acid stomachs and festering boils in their private places.
Other than that, we´re about to head north again, about 3000 km to Buenos Aires, where we will spend a few days, concluding the first leg of the trip with almost 30.000 km in five months. Our favorite air carrier, CARGOLUX, has agreed to fly us and the bikes to our next destination, Accra, the capital of Ghana. This includes a short stopover in Luxembourg in order to replenish some supplies, have our sorely tested bikes looked after and do some righteous bragging in the company of family and friends.
Feliz Ano Nuevo, Happy Njuju
Ellen & Manou