Ecuador, Peru and Bolivia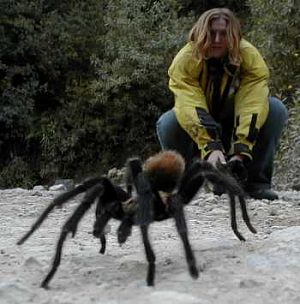 Tuesday, December 12th. We`re in Puerto Montt, Chile, having so far ridden 7.200 km in South America, almost 26.000 km total. The wine here is good, very good, and we`re doing a pretty good job trying to taste as many different ones as possible. We arrived in Quito, Ecuador quite exactly a month ago and spent five days there, waiting for our bikes that were delayed for some mysterious reason in Colombian transit. Getting the bikes out of customs ended up not being the herculean effort we were expecting, thanks to our carnets de passage and the help of a pricey but very competent tramitador (Luis Gustavo Mejia, Tel 434770, 481890, $ 50 per bike, we were out of customs in under three hours)
Because of the delay in Quito and because we had spent more time in Central America than planned, we were somewhat behind schedule. After visiting the Equator, we crossed Ecuador fairly quick, heading for Peru. We followed the Panamericana through Northern Peru, through rapidly changing landscapes and towns that were obviously not much used to seeing bushy bikers on filthy rat bikes. In Chiclayo (rightly self-proclaimed "capital de la amistad"), after an uneventful lunch, we were beckoned into the kitchen, whereupon the whole family started falling over each other in order to get into a picture with us. We spent a very pleasant extra hour posing before we were back on the road.
Travelling by motorcycle has many obvious advantages, but its most pleasant moments are definitely the reactions you get from the people you encounter. Moments such as when, coming around a corner, you`re beamed a brilliant smile from a little Indian girl at the roadside, or the truckdriver that we passed again and again along the road, and each time we passed each other, he showered us with flashing head lights, waves and honks. When at one point after a break, one bike would not start, this truck driver pulled over his semi to help us jump start the bike. When it finally started, he began jumping up and down, blowing kisses at the sky, shaking our hands congratulating us, and was generally happy as a clam for us. There have been many moments like these and it`s them that will make this trip truly unforgettable.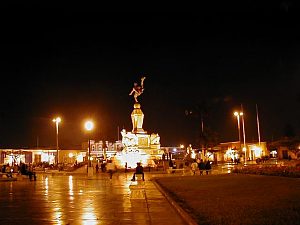 We crossed Lima and arrived in Nazca, where we left the Panamericana, heading for Abancay and Cuzco. That road has had a reputation for bandit activity in the past and was correspondingly empty of traffic and a pleasure to ride, at least until Chalhuanca where it became a nasty dirtroad from hell for the next 150 km. There were plenty of things to keep us entertained : A very photogenic Tarantula; lurching luggage (some escaped); meeting two brazilian guys, Thiago and Pedro, on DR800`s, having just started a worldtour; and finally, pouring rain, mud puddles up to our hips, nightfall and poor visibility. Quite a fulfilling day.
The following three days were spent visiting Cuzco, the surrounding Inca ruins and Machu Picchu. Each day was concluded with Andean music, good food and Pisco Sours. Culture tends to make us thirsty. Despite the current political situation in Peru (President Fujimori resigned because of corruption charges), all seemed quiet, at least until one morning when our cabdriver dropped us off halfway to our destination because of a rather large mob of people blocking the road and throwing stones at every vehicle in sight. There had been a price increase of cab fares and this was the reaction. Since we had no idea what was going on, it made for quite a bit of adrenaline, but tourists were obviously not on the menu this time, so no harm done.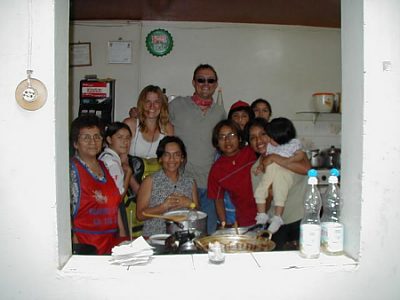 We continued towards Lake Titicaca and the ruins of Tihuanaco in Bolivia, crossed La Paz and headed west towards Arica, Chile, through some of the most spectacular scenery we had ever seen. Truly breathtaking, and not just because of the altitude, the highest point we crossed having been at 4667 meters above sea level. The bikes lost some power at altitude, but continued running smoothly, despite the 84 octane fuel. In Tihuanaco, we made the acquaintance of Charlie, a rather nosy but very photogenic Llama. During the photosession, he somehow misunderstood our intentions and tried to mount me. Upon my polite refusal, he changed his mind and turned his amorous attention towards Ellen and could only be persuaded to give up by a solid kick in the butt. Definitely a confused animal.
From Puerto Montt, we`re taking the ferry to Puerto Natales, in order to have enough time for a leisurely visit of the Torres del Paine National Park in Chilean Patagonia. After that, we cross into Argentina and head for Ushuaia where we will meet up with my parents in order to righteously celebrate X-mas and my fathers 65th birthday.
The fun continues
Cheers.
Ellen & Manou