May 2003. Another trip on rental bikes, one week on KTM 400's this time. Unfortunately, Ellen didn't join us on this one, so it was down to Jean-Marc, Chuck and myself to scare ourselves, a mission which was easily enough accomplished, at least as far as I'm concerned.

It seems that after the world tour, my riding style which was never particularly reckless has become somewhat more conservative, probably because I always wonder if there's not an animal/truck/sleeping person/oilslick/bandit with a large gun around that next sharp corner, however unlikely that might be at any particular moment.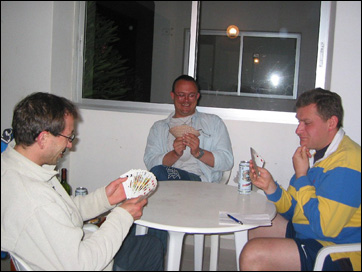 Fuerteventura makes for some real pleasant dirt riding on a network of small tracks all over the island. We spent our days exploring mostly the northern part of the island, trying to ride every track we could find. A guide we hired for a day to show us the places off the map, took us through some impossibly steep climbs and dried-out riverbeds, which resulted in most of us crashing, although I won't tell who didn't…
Evenings were mostly spent playing Tarot. We didn't feel much like partying in town as Fuerteventura is very touristy and riding in the dirt with a hangover isn't much fun anyway. As it is not very diverse in terms of landscape (the island is mostly flat, covered with lava rocks and the occasional sanddunes which are off limits to bikes) we took a ferry over to Lanzarote for a change of scenery . As we wanted to stay only one day, we raced madly around the island in order to see as many attractions as possible, such as a lava field (complete with restaurant where you could order lava grilled chicken, the volcano still being active) and several architectural marvels built by the famous painter César Manrique.
All in all, a very pleasant week with some great riding, good food and fantastic weather. The Canary Islands are certainly an easy way to benefit from the climate at that latitude without the paperwork hassle you would be subjected to in neighbouring Mauritania. Also, there are less land mines…. After flying back we decided to do something similar in 2004 although we haven't decided on the location yet. All suggestions are welcome…
Cheers
Manou