Test Run through Central Europe, June 22nd - July 1st .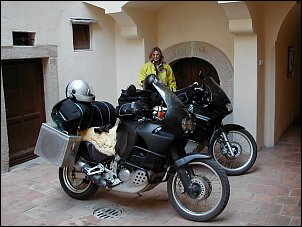 Thursday, June 22th 2000. Late start, still, we left Prague at around 18.00 and spend the night in Brno. After crossing Slovakia, we got into Budapest on Friday, found a hotel, and went for dinner. Upon inquiry what a typical Hungarian "aperitif" would be, the waiter suggested either Tokaij wine or apricot brandy. After we respectfully declined, he offered a "Puzsta cocktail". ??? The ingredients are Tokaij wine and apricot brandy. So much for variety. Other than that, the food as well as the local wine were excellent, and the gypsy violinist fiddling right into our ears fit in perfectly.


Earlier that evening we were also told about an operette called "The Duke of Luxembourg" by Hungarian composer Ferenc Lehar. Good to know, and it got us started for the cultural tourist circuit which we did on Saturday. Budapest is spectacular, it's easy to see why it's often compared to Paris and Vienna. Still, it lacks the cozy feel of Prague, but after three years in Prague, it's hard to be objective. The great advantage of Budapest as far as we are concerned is that it is inhabited by Hungarians which are definitely a lot friendlier than Czechs (I'm talking about the Prague area, the further east you go in the Czech Republic, the better it gets). Smiles whenever we asked for whatever, an experience that continued throughout the following days.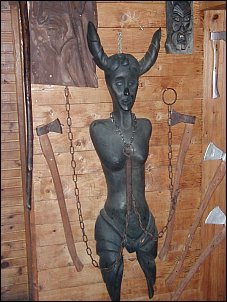 On Sunday, we headed out of Budapest, first southeast to Szolnok and then back north past Lake Tisza to Eger, home of the Egri Bikaver, a very red, very good strong wine, the name of which translates as Bull's Blood. We even found space in our luggage for a couple of bottles. Eger is a 1000-year-old episcopal seat with a glorious historical past and great monuments. I'm quoting out of a brochure here, but it really is a nice town.
On Monday, we left Eger direction Slovakia, riding through Bukki Nemzeti Park. Apart from some rain, the ride was great, never ending turns and no cars or other vermin on the road. We spent the night in Kosice (which, incidentally, is another very nice historical town) and headed towards Poland on Tuesday. The riding in Slovakia was excellent, and it even got better as we got into Poland where we turned east into Bieszczady and Wetlinski Park. We found a hotel in Cisna, a tiny town, where we ventured into a somewhat bizarre pub that was entirely decorated in rather satanic fashion, masks and horns and spooky pictures everywhere. Cool place, although a bit empty, the real tourist season only starting in July in these parts. The fact that we do speak some Czech was pretty helpful here, since they are not exactly prepared for tourists other than polish.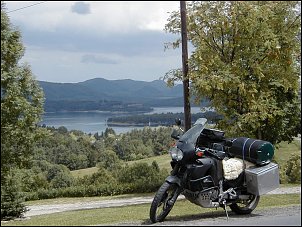 On Wednesday, we explored the region, took some very small roads that were little more than dirt tracks (complete with creek and rickety bridge crossings) and were rewarded with big smiles from the people into whose backyards we would suddenly emerge from the woods. We camped that evening, testing our brand new gear, and left for Cracow where we arrived on Thursday evening. No time for more than a summary visit of the center and dinner, leaving again in the morning. On our way to the Czech Republic, we visited Auschwitz. It is hard to put that place into words, so I just won't.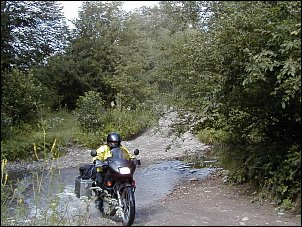 After crossing the border, we spent the night in Cesky Tesin, where we were very well received, creating some regrets that we never took the time before to explore Moravia (the eastern part of the Czech Republic). On Saturday, we arrived safely back in Prague, concluding our test run with a total distance of 2200 km ridden in nine days, mostly on small roads. All went well, no mechanical trouble, we now have a better idea which bits and pieces to take and where to store them, and, most importantly, it was a lot of fun. Only five weeks to go before the next one. Rock'n'roll.